INTRODUCTION
HOW TO PLAY
1. Download LigaKita Android App or browse https://ligakita.my
2. Proceed with your profile sign up here: https://ligakita.my/register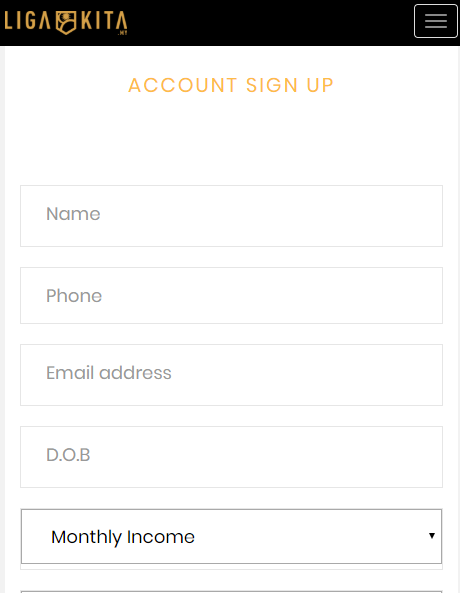 3. After successful sign-up, you can proceed to login https://ligakita.my/login.
You can choose to login into your preferred fantasy football competition by clicking on the competition from the logo.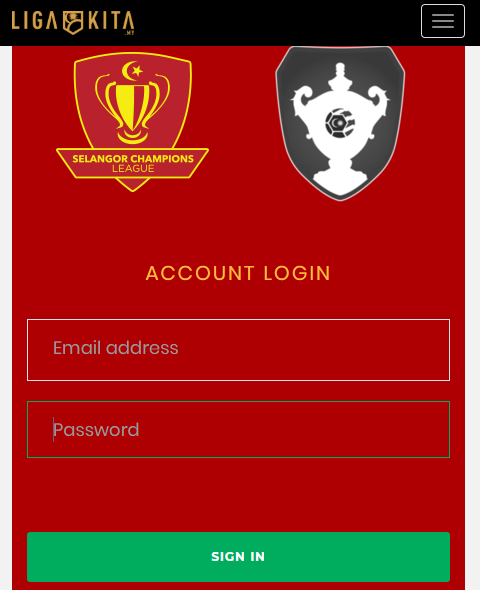 You can play both competition concurrently using same account you have registered.
Each competition have different Rules & Fixtures. You will be given 100 Credit for your starting fantasy team budget for each competition.
For each competition you logged-in and create a team for the first time, you will receive FREE 150 LKP. We will explain what is LKP in next section.
SETUP NEW TEAM
1. After you logged-in for the first time into a competition, you will brought to the Transfer page
2. This page allows you to buy players for the first time to complete your 15-players team
Your team will need
2 Goalkeepers
5 Defenders
5 Midfielders
3 Forwards

**You only allowed to choose 3 players maximum from a single Football Club**
3. After you have chosen your favourite 15-players and confirm Transfers, you will be redirected to the team selection page.

This page allows you to setup team formation and pick your first-team squad for the upcoming fixtures.
Also here you can pick your captain, vice-captain and Boosts.
4. To switch players, you can drag the player and switch with other player of the same position
Goal Boosts, Assist Boosts can be used on anytime throughout the season.
5. For first time team setup, you are allowed to make unlimited Player Transfers.
To transfer out player, click sell on the player you wish to take out and click buy from the list of players
Don't forget to confirm your Transfer or else your transfer will not saved.
For matchweek onwards, you are only allowed to make 1 FREE Transfers. You can redeem to get more player transfers for that matchweek.
6. Player Transfer cannot be carried forward. If you have 10 Player Transfer for the matchweek, you will need to use all 10 Transfer, or else it will be burned.
**Transfer Deadline for SCL2019 is at 2.00 pm every Saturday's
**Transfer Deadline for Malaysia Cup is at 8.00 pm on the first match of the matchweek
WHAT IS LKP & HOW TO USE THEM
LKP stands for Liga Kita Points which is collectible and redeemable.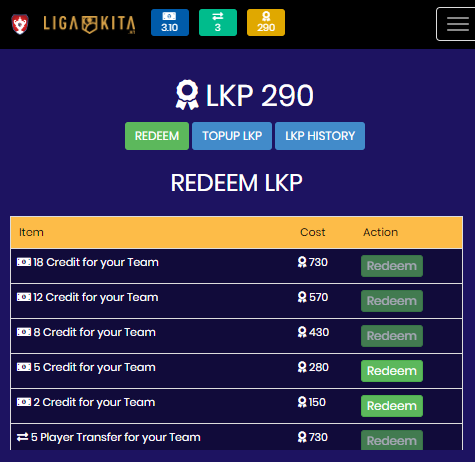 HOW TO COLLECT LKP:
1. BY CHALLENGE: Get up to 125 LKP every week
2. BY TRAINING: Daily training will earned you 5 LKP every day!
3. BY PURCHASING: Fastest way to collect LKP. Lowest package is RM 5 for 150 LKP
CHALLENGE - EARN LKP BY WINNING HEAD2HEAD MATCH
You can challenge up to 5 teams each matchweek.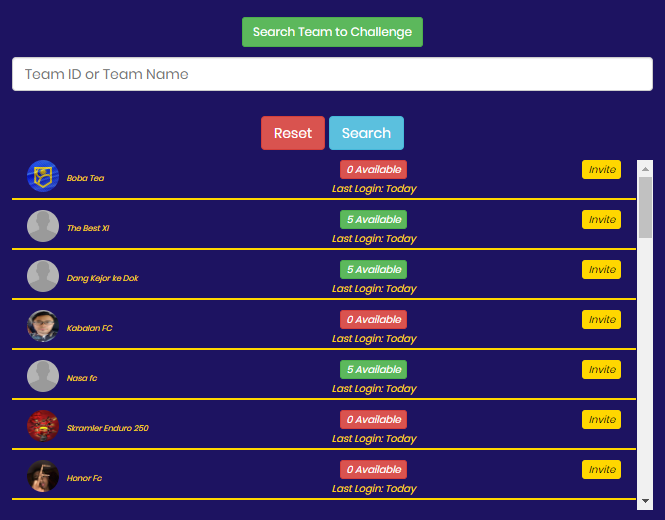 It is important to setup 5 challenge every week so that your team will get full advantage of earning LKP
25 POINTS if you win
10 POINTS if draws and
5 POINTS if you lost.

Challenge points are calculated after all matchweek matches are completed
TEAM TRAINING - UPGRADE YOUR PLAYER!
Team Training will increase your player 'training points' by 0.1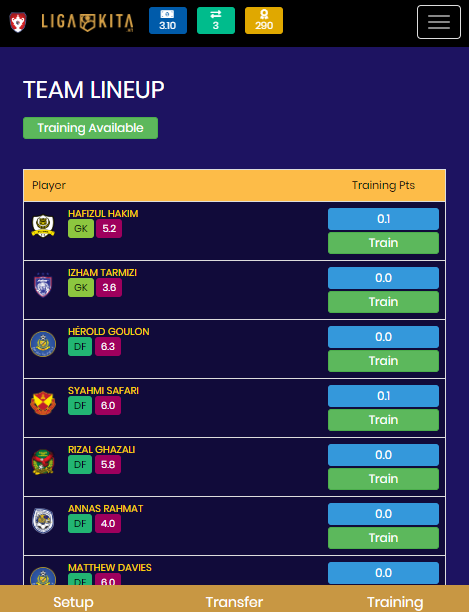 0.1 means if your player gets 5 points this week, it will multiply by 0.1, so the player total points for your team is 5 + (5*0.1) = 5.5!
You will also earn 5 LKP for daily training
So make sure you don't miss your daily training.
Training starts on 2nd week of the season
You need to train different player each day in a matchweek.
Maximum training points for a player is 1.0
!IMPORTANT! - LIGAKITA TRANSFER RULES FOR MALAYSIA CUP & SCL2019
**SCL2019 only has 1 round of Quarter Final & Semi Final**
| | | |
| --- | --- | --- |
| | Transfer Allowed | Player per Club |
| League Matches | 1 | 3 |
| Quarter Final Round 1 | 5 | 3 |
| Quarter Final Round 2 | 1 | 3 |
| Semi Final Round 1 | 2 | 5 |
| Semi Final Round 2 | 2 | 5 |
| Final | 2 | 6 |
TIPS ON SCL2019!
Follow: